When walking into a woodworker's home for the first time, it's often far easier to ask which pieces they haven't made than to ask which ones they have. Gareth Green's apartment is full of desks, tables, cabinets, and other pieces of furniture that were created in his workshop. Many of his creations are thought up first by his wife Hyemin, who sketches out what she is looking for before Gareth renders it into reality.
"I've always had a creative side," said Gareth, who has had a long and successful career in the arts. He moved to London from the countryside near Manchester, England when he was 17 to attend London Contemporary Dance School, and toured as a dancer for many years before retiring to become a theater lighting designer/production manager. His job had him traveling all over Europe, Asia, the Americas, and Australia, where he worked on major productions and events such as Fuerza Bruta in Argentina and the Hi Seoul Festival in Korea.
It was while he was working in London that he met his now wife Hyemin, who lived there for several months before returning to Seoul. "When Hyemin eventually went back to Korea, I remember I wasn't particularly happy about that," he said with a laugh. "I remember speaking to my friends in a pub, and they were saying 'oh, why don't you go?' I said that's ridiculous, I can't fly halfway around the world, then I sent a message to Hyemin and booked a flight on my phone whilst in the pub. To fly the next day."
For four years, the two maintained a long-distance relationship, with Gareth visiting Korea two to three times a year. Finally, in late 2019, he made the decision to base his life in Korea with Hyemin.
Unfortunately, the pandemic hit soon thereafter, throwing a major wrench in their plans. Determined to make things work, however, Gareth and Hyemin got married and set out to build their new life together in Korea.
"As a foreigner coming to Korea, I couldn't cope without Coupang," said Gareth. "When we moved to our house, it was a disaster. It was an absolute, 'ugh, why did we ever agree to it?' situation. I replaced the electrics; the lights, the plumbing, I had to redo… I did everything! And all that was bought through Coupang."
Gareth found much to be impressed with, including its selection ("You can buy anything on Coupang. You can buy wood!"), as well as its speed ("When I bought some headphones, I remember, they arrived in five hours. I was checking for cameras, they came so quickly!"). Thanks to Coupang's end-to-end nationwide delivery network, Gareth could procure most things he needed within a day or even faster. But most of all, Gareth loved how simple Coupang made the commerce experience for foreigners in Korea.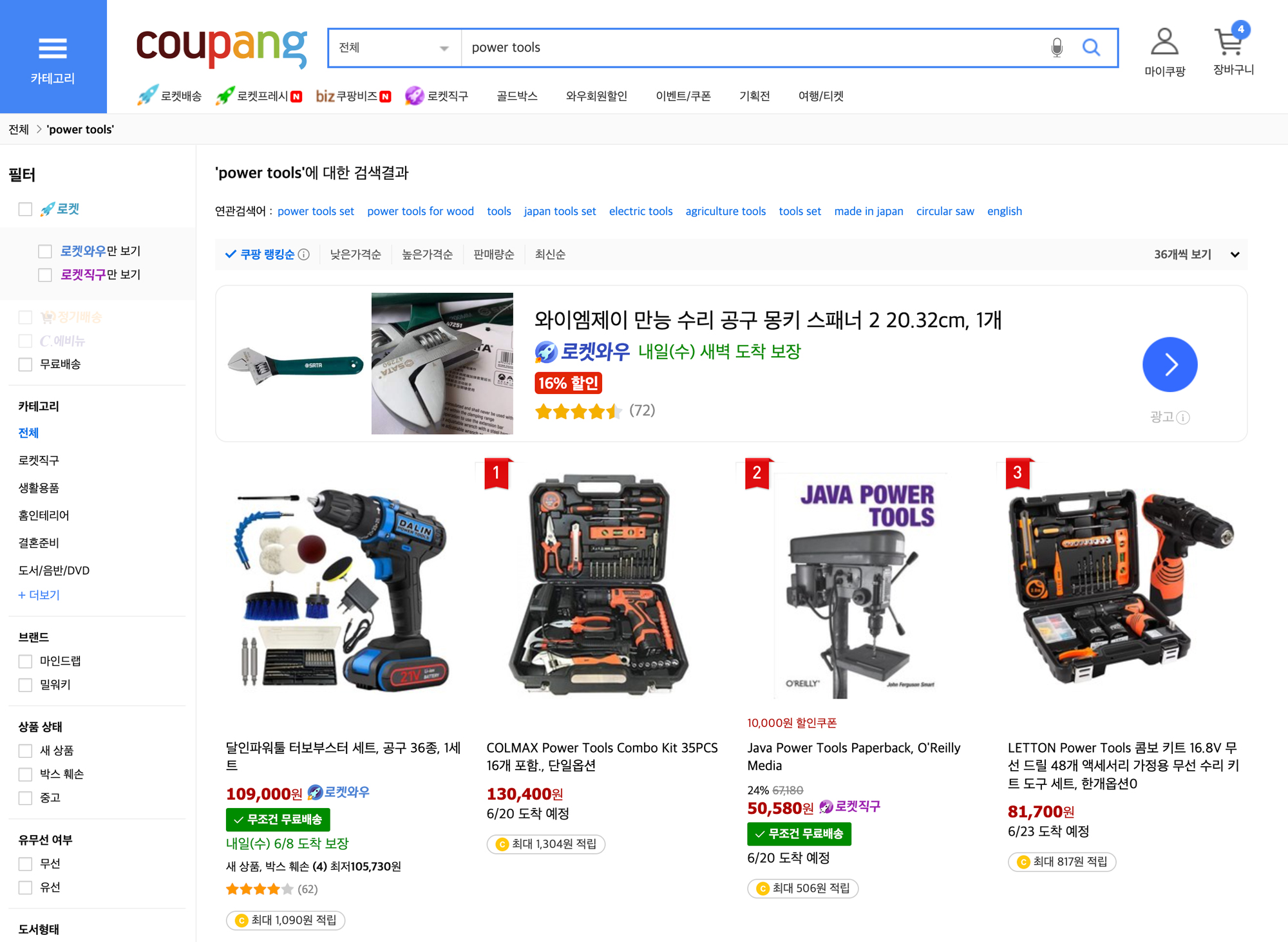 With Coupang, Gareth can simply search in English and find the products he's looking for, or find the corresponding Korean term so that he can search further with the copy and paste function. "It's a really good resource for me to search and to see what's available in Korea, because if it's available in Korea, it'll be on Coupang, that kind of thing. And if I'm going to search a thing, that's the first place I'll go to, because I can search in English."
Even when Gareth doesn't know the specific name of what he's looking for in English, Coupang's AI-based search engine can often lead him to right product and save significant time. "It's like, I've got something in mind. Things like this (pictured above)—what would you call that?" he said. "I haven't got a clue what that's called. Interestingly, I was looking for a washer that's got an M8 bolt, and I kept searching, searching, translating, and then Coupang put a recommendation at the bottom. I was like, yeah, that's it, that's what I want."
Another reason Gareth finds Coupang so easy to use is the company's effortless return policy, which offers free returns within 30 days for WOW members and allows customers to simply leave the return outside their doorstep, with no boxes or labels required. "In the UK, we don't return things because it's a hassle. It's effort!" said Gareth. "But with Rocket, it gives me the reassurance that I can just return it if it's not right."
These days, Gareth is busy touring Korea for his lighting work or planning the next furniture piece with his wife to further build out their home. "Rocket is really great," Gareth said. "It helps foreigners like me live a full life here in Korea."
In South Korea there are some 2 million foreigners and the number is growing every year. And Coupang is becoming an essential daily service for these expats. Many are already asking themselves: "How did we ever live without Coupang?"
Credits: gareth_hyemin, Youjin Jung